An electrical installation condition report (EICR) is being used to detect faults, degradation, damages, and/or conditions that might suggest a potential danger, as well as provide recommendations for improvement within a given facility. We are NICEIC approved electrical contractor.
Electrical Installation Condition report (EICR)
An EICR is a formal document of a property's electrical installation condition, prepared by a qualified electrician or approved contractor. NICEIC and NAPIT are providing industry-standard training and certification to qualify an electrician to perform EICR assessment and other electrical jobs.
Our engineers are fully qualified of NICEIC AND NAPIT
EICR Certificate Costing​
EICR certificate costs starting only £99 including VAT. We are especially providing service for the EICR Certificate to the landlord based in London.
Discount available for bulk order
Call Now
Below mentioned table; All Landlord Certificates Limited has given clearly explain regarding EICR certificate costing:
EICR certificate cost based on the number of beds in the property. But we are running single price offer, any bedrooms £129/= only.
Landlord electrical certificate (Studio)
£129
Landlord electrical certificate (1-2 beds)
£129
Landlord electrical certificate (3-4 beds)
£129
£20 for additional room
EICR Certificate Cost Chart
All Landlord Certificates Services inside London
How much does an EICR certificate cost regarding the safety of a landlord?
If you are a homeowner, it is your responsibility to check that the socket, light switch, wiring, and consumer board are safe. The Electrical Safety Council recommends an inspection report of electrical installations every 5 years according to the wiring conditions or whenever there's a change of tenants.
The following electrical fixtures will be included in this report:
| | |
| --- | --- |
| Consumer Unit | Earthing and bonding |
| RCD protection | Extension leads |
| Sockets | Kitchen safety |
| Plugs | Bathroom safety |
| Light fittings | Signs of wear and tear |
| Light switches | Electrical cables or leads |
The Visual Inspection parameter to generate EICR Certificate
Unlike the installation certificate or report, the PAT test examines appliances in the home, including large white items such as a fridge freezer or dishwasher, but also small appliances such as kettles and toasters. Currently, there is no legal obligation for landlords to conduct a PAT test, but it is recommended and good practice, and usually costs from £ 1 to £ 2 per item.
Any electrical work must be self-certified by an electrician, or the local authority's construction department must check the work upon completion. If you have chosen an electrician who is a member of a competent person scheme to work, he can self-certify and issue you with a certificate. This certificate is usually included in the quotation for any work that is required.
What are cover in the EICR report?
(EICR BS 7671 18th edition) Visual inspection of 80% of supplier's terminal equipment, main protective and complimentary connections and inspection, and testing of final circuits. Due to the range of access, the light circuit can be tested on the switch. Supplies not supplied by the distributor (example: photovoltaic) are excluded.
The visual inspection report will record several comments
Consumer Unit Earthing and Bonding
RCD protection extends
Sockets and Kitchen Safety
Plug and lighting bathroom safety
Characteristics of light fitting wear and tear
Light switches electrical cable or lead
What will I find in the EICR report?
Our Electrical engineers adhere to Part P building requirements and are accredited and controlled by either the:
NICEIC
NAPIT
STROMA
We can do an EICR certificate (The electrical installation condition report), diagnosis, and fault detection on electrical systems. Our engineers are fully trained and follow all current regulation guidelines and requirements to ensure that your work is done to optimum standards.
And our electricians use the latest testing equipment to detect defects that enable them to quickly diagnose and repair defects. Once our engineer has performed the inspection, they will provide you with a report detailing any defects and recommendations for remedial actions.
An EICR Certificate will give a summary report of your home electrical condition
Qualified & registered electrician will record a number of observations in line with
BS 7671
. Depending on your electric condition, an electrician might recommend improvement. The electrical safety certificate consists of the electrician, their registered license number, the information about the electrician who performs the inspection with EICR certificate cost.
Why Does the landlord choose us for EICR Certificate?
EICR Certificate Cost: There is no Hidden cost to issue EICR certificate inspection. We are committed to given service to generate properly EICR Certificate along with support 24/7 website live chatting and whatsApp.
EICR inspection maintains below-mentioned coding:
| | | | |
| --- | --- | --- | --- |
| Codes | Means | Suggested Action | Report Outcome |
| C1 | Danger present. Risk of injury | Immediate remedial action required. | Unsatisfactory |
| C2 | Potentially dangerous. | Urgent remedial action required | Unsatisfactory |
| FI | Further investigation | Urgent investigation required without delay | Possibly unsatisfactory |
| C3 | Improvement recommended | Something might not comply with the regulations but isn't dangerous | Satisfactory |
It is generally recommended that an EICR be carried out every ten years (five for privately rented properties) or when the accommodation in a residence is changed. Our aim is to make life easier, including the way you 
Book Your Inspection
Booking request form or call now: 
+4420 8004 9655
Once your booking is valid, you will be given access to our free property management portal, allowing you to progress in real-time inspections, certificates, and more… We accept all types of payments for others along with EICR Certificate service: credit cards, visas, singles, bank transfers, bankers' drafts, and checks.
Why do you need the EICR Certificate?
The electrical certificate or EICR certificate is an important part of ensuring the safety of your tenants and is able to prove that you have taken the appropriate steps to do so. It is recommended that you should have a complete electrical inspection every three to five years dependent on previous inspection advice.
This examination examines the condition of the electrical wiring throughout the property and thoroughly checks the safety of the electrical installation. Once this is done and an 'Electrical Installation Condition Report' is processed, it will be issued electronically. It will announce whether the electrical installation is safe or if any remedial work is required to ensure it meets current safety standards. The remedial works require a separate quotation not included in the ordered EICR certificate cost.
What is an electrical safety certificate entry?
To be awarded the Electrical Safety Certificate, a full report must be conducted by a qualified electrician who will test all electrical installations in the home. During the inspection, a power loss may occur while testing the circuit.
The electrician will first inform you about this, and may ask you a number of questions, such as when were the electrical installations fitted? Or have you noticed an electrical issue? You should try to be as honest as possible while answering the questions, as this will help speed up the process.
The inspection will include the following steps:
To check the condition of earthing and bonding
Conduct tests on wall outlets and switches to ensure they are functioning properly, and there is no risk of electrical or shock.
Verifying Arc Fault Circuit Interrupter (AFCI) to ensure that they are working properly.
Checking the light fittings to ensure that they are secure and should work.
Any old wiring such as lead, fabric, and wiring used as black-rubber should be replaced with PVC insulation.
Testing on extension leads that are used for external electrical equipment.
Detection of any wear, tear, or damage on any establishment throughout the house to prevent future issues.
To seek any noticeable changes regarding the use of premises requiring an upgrade.
Make a final report on whether the electrical installations are satisfactory, for which no work should be done or unsatisfactory, which means that the property should be considered safe.
Safety EICR Certificate Cost Factors
There are several factors that can affect the cost of obtaining an EICR safety certificate. This may include the size of your home, the larger the house, the longer the check and report will take. For example, a 1-bedroom flat can only take an hour to test, costing around £129, while a 5-bedroom house can take several hours, costing £169.
The average EICR Certificate cost will also depend on the type of electrical test certificate you require, with the cheapest PAT test at £ 59, followed by a Landlord Electrical Safety Report certificate at £129.
Can I complete the safety of an EICR certificate myself?
Unfortunately, there is no budget DIY solution when it comes to electrical projects, hiring a professional electrician who can certify their work on their own is, in fact, probably the cheapest option.
It is also necessary to hire someone who is registered with a Competent Person Scheme, as they can self-certify without inspecting a private building or calling a local council representative. To help keep your electrical application above, you should try to monitor your electrical equipment regularly to check for any faults or damage that the electrician can fix before any damage is.
What is included in the EICR Safety Certificate/Report?
When a qualified engineer is called to conduct an electrical inspection report, they will check to see if the electrical circuit or equipment is overloaded, a fire hazard or potential electric shock risk, as well as faulty electrical work. Let's identify:
Traders will conduct various checks on the following:
Earthing and Bonding Adequacy Test
Fuse box suitability and whether it needs replacing
Service of light fittings, sockets, and switches to ensure that they are up to date
Wiring System Status
Adequacy of identification and notice
Location suitability of all electrical fixtures
Malfunction, damage, or wear and tear on electrical equipment
Use of the premises and whether it has changed
After these investigations take place, the engineer will provide a complete report which will include all details of the electrical fixtures and their condition. If a non-compliance was marked as hazardous or potentially hazardous, the electrical safety of the property would be considered unsatisfactory, and replacement or repair should be implemented immediately.
What are the advantages of getting an electrical safety certificate?
There are many benefits to obtaining an electrical safety certificate, first, your own protection under the law, especially if you are a landlord. Having a landlord Electrical Safety Certificate will help you to remain compliant with regard to electrical fixtures in your rental property, as per the 18th edition regulation EICR check is needed once after every 5 years.
It is also good practice to hire an electrician to check the safety of electricity when a new tenant moves in. This will prevent you from paying for fire damage or any tenant accidents regarding electric shock. However, if you do not get an electrical installation certificate, you can pay a fine of £ 30,000 or more.
Electrical safety certificates also benefit homeowners, as this will allow them to sell their home quickly, as electrical compliance must have been confirmed. Many estate agents will not put an asset in the market if the electrician has not been deemed by a professional electrician, causing delays or financial losses. We offer a very competitive EICR certificate cost.
Will there be an electrical safety certificate affecting the sale of my property?
While you are not legally required to provide an electrical certificate to a buyer, it can actually accelerate the sale of your property. This is because it will assure the real estate agent that the property is obedient.
It will also assure potential buyers that the property is safe and up to electrical fixtures, which means they will not pay to check, repair, or replace themselves. In some instances, a buyer may conduct their test anyway.
How to find and hire an electrician for a safety certificate?
Online booking of the EICR Certificate on our website is pretty much easy. We will assign a certified engineer who is best fit and available in your area for the job.
What are the reasons to fail an EICR?
According to EICR
BS 7671 18th edition
INSPECTION SCHEDULE FOR DOMESTIC & SIMILAR PREMISES WITH UP TO 100A SUPPLY if it causes any C1 or C2 result the EICR has failed.
What are the solutions to failing an EICR report?
If the EICR report shows unsatisfactory, the engineer will quote for remedial works. That will be subject to extra charge but it's not an EICR Certificate cost.
How much EICR Certificate Cost for Failed Report?
If the client approves the quote for remedial works, then after fixing all compliance Satisfactory EICR certificate will be re-issuing without any extra EICR Cost. If the client does not agree with the quotation then we offer 50% of the EICR certificate cost for revisiting the property to reissue a new certificate.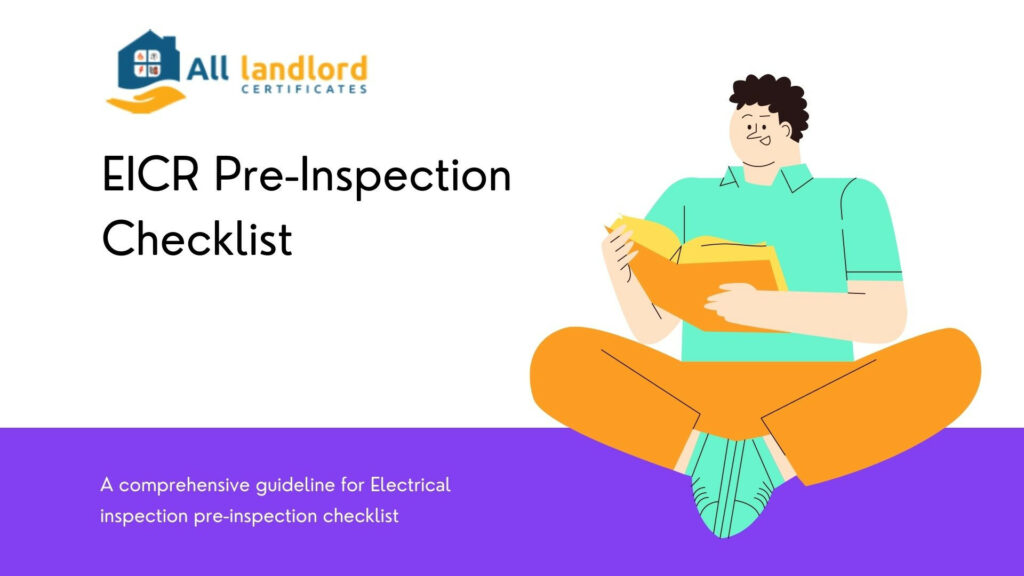 EICR pre-inspection checklist
All Landlord Certificates Ltd, provide a proper guidelines of the EICR certifications. For any of you query you can check our FAQ section for a quick answer or you can Call us to talk with an expert. You can request to talk with a local electrical engineer to discuss your cases if required by calling our support center. Please read a complete domestic EICR guidelines in the following EBook. 
Certificate of electrical safety is the responsibility of the Landlord or who manages the property. It's a legal requirement to keep your EICR up to date for the tenant's safety. Otherwise, it could be a big fine if any hazard happens in the future. We are the best EICR service provider in London. EICR certificate cost depends on the number of bedrooms, no matter how many fusebox and circuit breakers. We also do all kinds of electrical remedial works with the market's best price and including the next electrical testing certificate for free. 
All Landlord Certificates Services
Frequently asked questions